Consul and Head of Post Zhou Youbin Attends the Inauguration of Ilocos Norte Officials
---
2022-06-28 16:47
On June 27, Consul and Head of Post Zhou Youbin was invited to attend the inauguration ceremony of government officials of Ilocos Norte.
The ceremony was held at the Centennial Arena of Ilocos Norte. Governor Matthew Marcos Manotoc, Congressman Sandro Marcos, Congressman Angelo Marcos Barba, Vice Governor Cecilia Araneta Marcos and other government officials at all levels elected in 2022 in Ilocos Norte are sworn in.
During the ceremony, Zhou Youbin interacted with Governor Matthew, Congressman Sandro, Congressman Barba and other local officials. Consul Zhou congratulated them on their victory in the election, and talked about continuing to promote friendly exchanges and pragmatic cooperation between Ilocos Norte and China.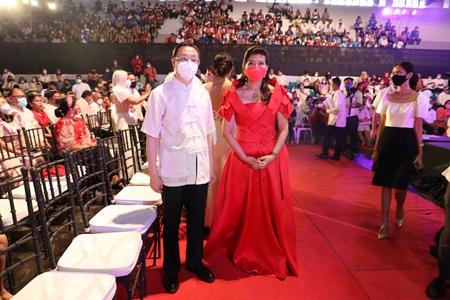 Consul Zhou also had a friendly chat with Senator Imee Marcos. Zhou said that in the 2022 Philippine presidential election,Uniteam came to power with a record victory, creating a united and dynamic new government for the country's development in the next six years. It is believed that under the strong leadership of the new government, Philippines development will usher in a broader prospect, and the exchanges and cooperation between Ilocos Norte and China will be further improved.